Our convenient sharpening service
Precision-tool sharpening at Wunschmann couldn't be any easier:
Request a Wunschmann box
Pack your tools into the box
Send the box to Wunschmann or have it collected
We will return your tools, in the box, within the agreed time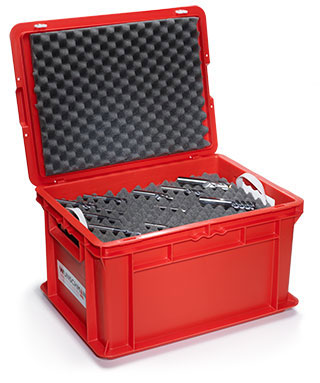 Convenient and secure: the Wunschmann box.
Manufacturing expertise gives us the edge when it comes to sharpening
With 40 years' experience in sharpening precision tools for cutting, we know exactly what counts – and how to lower tool costs by sharpening and recoating. You could roughly say that sharpening three times reduces your tool costs by just under fifty percent, without compromising on performance or dimensional accuracy.
We use the latest grinding technology, and have access to a large database with tool data and geometries from numerous manufacturers.
We can sharpen the following tools for you:
SC/HSS cutters
SC/HSS drills
Reamers
Counterbores (flat; piloted, conical) etc.
SC DIN saw blades
HSS saw blades (ø 30 to 710 mm)
Saw blades with special tooth shapes and chip breaker slots